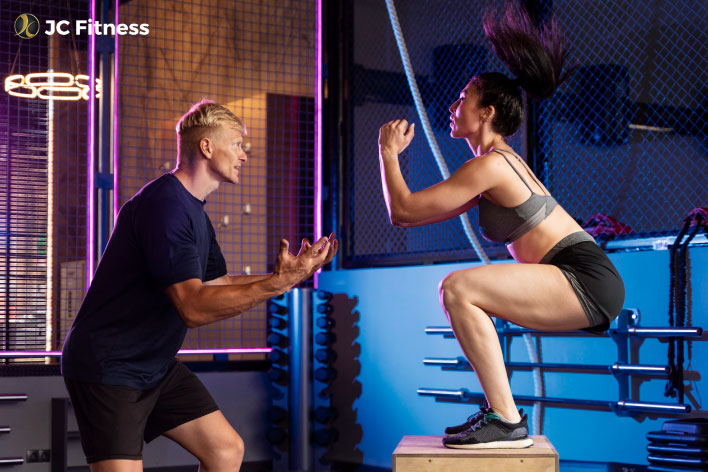 Top Benefits of Hiring A Personal Gym Trainer
Online Personal Trainer – "The more you compete or perform an activity, the more your body becomes accustomed to it,"
Subsequently existed in covid lockdown for a long period, like really long! Yet aspects are getting on the better side and will recover, hopefully.
And also it forced people to stay away from the gym and lose their concern for health but it is coming back slowly and deliberately
The gym is the best place for the one who is concerned for their health and body shape, and also there are numerous benefits of the gym as it helps to increase the cardio fitness, better mood, blood circulation, better brain function, stronger bones, and the list can go on!
But have you ever had a time at the gym when you had a thought of what you're doing in the gym or are you moving towards the goal you've thought of for your bodily health?
If yes, this is the right place for you folk!
and trust me on this, it is completely normal to have such thoughts, and after this thought
It's the time, like really!
TIME TO HIRE A PERSONAL TRAINER FOR YOURSELF
We all know the fact that the fitness journey is one of the main and personal things, to come
with a New Me or Upgraded version of yourself
sometimes you get to see the results and at times you hit the wall
This blog will shed light on why it is really important to have a personal trainer for a long run
There are tons of reasons for you to hire a personal trainer
There are a few reasons
( Top 5 Reasons, I'll say) to encourage you to hire a trainer for yourself!
1st out of 5 –
Many people Out there have no idea, like no idea about what to do and how to do mainly taking the first step of your fitness journey can be very daunting, and guess what, who can Sout things for you? A PERSONAL TRAINER can help you to counsel and make a perfect fitness plan that will suit you and your fitness suitably
2nd –
The gym can be dangerous too! Not many people, including me, okay? Have no idea about the equipment and the weights
And without having a proper understanding and using the equipment can be harmful and can stress the nerve and body parts which can be equally injurious for one, And having a trainer can keep you safe and away from any kind of injury and make you familiar with the equipment too.
3rd-
Without A trainer, the gym can be boring enough to have the same exercise regularly without any changes because of course, You cannot add up any exercise on your own. A trainer will devise you into new routines which will be effective and equally fun and will also keep you committed in your sessions
4th
MOTIVATION AT PEAK!
Keeping you motivated throughout achieving your goal is a difficult task. Trust me, It is tough to keep yourself motivated and the gym can feel like an intimidating place if you lose the motivation for the gym but The guidance of a trainer will give the motivation and the confidence boost which is needed for one and keep you and your performance and your goal of a course on track!
Last but not the least
Without proper nutrition, exercising can be less beneficial and there are chances of slow improvement.
Whether it's for gaining or losing
Proper nourishment is much needed for one!
And of course, we're humans and flavorful food persuades us no matter how motivated we get.
But a personal trainer will strictly and from strictly I mean STRICTLY, keeps you and your nutrition on track! They have their attention on you and you cannot ultimately lie to them. This will help you to make your workout worth of and make your workout count!
Okay, so these have to be sufficient justifications for you to dive for a personal trainer and if you're wondering where to hire? You also got it covered here, Gym does assign a Personal trainer when inquired.
And one main thing furthermore, as I'm giving you motivation for a personal trainer
( I hope I'm? )
Here is a quick suggestion!
Just don't hop into someone quickly, with a trainer you must have a great pact and a better understanding
And who can help you in crushing your purposes and expectations?
So, what are you waiting for? Just find the perfect trainer for your perfect health and to become the perfect You.
Also Read: