Online Fitness Coaching vs. In-Person Training: Pros and Cons
Are you looking to get in the best shape of your life but can't decide whether to work with an online coach or get in-person training? Choosing between the convenience of online coaching and the accountability of in-person sessions can be a real head-scratcher.  
Online coaching offers so much flexibility – JC Fitness makes it a great choice for people who want a personalised and comprehensive fitness experience.
Let's be honest, Netflix is way more tempting than burpees in your living room. This is where in-person training can really help. Scheduled gym sessions with a trainer present make it significantly more challenging to skip or slack off during your workout.
In-person training can be a big time commitment with commute factored in. And if you miss a session, you're basically missing out. Fear not, with JC Fitness we analyse both possibilities and help you pick which road to go on your fitness journey.
Experience top-notch online fitness coaching from the comfort of your own home, without the need to leave.
Online fitness training has revolutionised the way we stay in shape. With the convenience of virtual workouts accessible from the comfort of one's home or any preferred location, it caters to busy lifestyles and remote accessibility. 
These programs often include a wide variety of workout options, from yoga to high-intensity interval training, making it easy to find a routine that suits individual preferences.
JC Fitness offers several advantages to opting for online coaching, and here are some of the PROS:
Flexibility Matters:

Through online coaching, you have complete control over your schedule. There's no need to rush to get to the gym during rush hours, and you can work out in your pj's with JC fitness experts. Does it sound great ? 🤩

Cost-effective:

Online training typically comes at a lower cost compared to in-person training, as it allows you to save money on commuting and, in certain cases, gym subscriptions. It's worth noting that JC Fitness provides both virtual and non-virtual training options. It's a Win-Win for you! 

Worldwide Reach:

You can connect with our world-class trainers from anywhere on the globe, granting you access to their wealth of knowledge and expertise. 
Let's take a closer look at the potential downsides, ensuring you have all the information you need to make a smart choice.
Tech Barriers:

Delayed Wi-Fi, glitchy applications, or a frustrating frozen screen may be a nuisance and buzzkill during workout sessions.

Lack of Physical Presence:

Many trainers are unable to build your interest and keep in touch with you throughout your journey which may result in injury or slowed progress. But, there are our experts who keep you compelled all the way and stand beside you taking care of you.

JC Fitness App: Summoning self-motivation can be a real struggle when your cozy sofa beckons from just a few feet away, and Netflix lures you into yet another binge-watching session. But, fret not! The pros at JC Fitness have your back, not only with their in-person support and motivation but also with their nifty app. With the JC Fitness app, you can easily track your fitness routines and access your goals, keeping you on the path to success.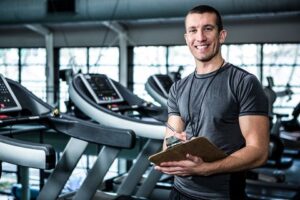 Get Ready to Sculpt Your Dream Body with a Custom Workout and Diet Game Plan, Spruced Up with In-Person Training! 💪😄
Opting for an in-person gym trainer provides a unique and highly effective fitness experience, with personalised guidance. Interested in the advantages of this approach? Discover them below, and remember, JC Fitness offers a handy app for tracking your fitness routines and goals.
Immediate Assessment:

At JC Fitness, our dedicated coaches are actively involved, ensuring your best performance and maintaining proper form. Unlike other gyms, our trainers are both fitness experts and known for their approachable, friendly nature. Experience our unique support, making your fitness journey effective and enjoyable. 🏋️‍♀️

Accountability:

It is more difficult to skip a session when your trainer has been waiting for you to arrive at the gym. At JC Fitness, we understand the importance of accountability in achieving your fitness goals, which is why we provide you with dedicated trainers who are committed to your progress and well-being.

Interpersonal Communication:

At some places, you might not stumble upon fitness

fans

or chummy cliques. But here at JC Fitness, we've got it all – including those post-workout snack enthusiasts! We're all about creating a supportive and enjoyable fitness community where you can mingle, inspire, and grab a bite together on your path to a healthier lifestyle. Swing by our website and see the incredible results we've cooked up. 🏋️‍♂️😄
Let's explore the Con's or Disadvantages of In-Person Training. 
Time Constraints:

Personal workout sessions are frequently planned at specified times, which may conflict with your hectic schedule.

Costly : Considering gym fees and the trainer's hourly charges, quality in-person training may be costly. JC Fitness, an affordable option, can efficiently resolve this problem with economical options and high-quality services. Additionally, they provide an environmentally friendly training environment.🪄
Travel problems:

Getting to the gym, especially during rush hour, could transform your workout into a stressful experience. So, it is advised to carefully plan your workout sessions around your whole day. The coaches of JC Fitness are available 24/7 and will be there for you even if you reach late.
 Seeking for proofs? 🔎Verify by visiting their website to see the results.

Conclusion:
At the end of the day, choosing between online coaching and in-person training comes down to understanding your needs and habits. What will make fitness a sustainable, enjoyable part of your routine? If you require high accountability and extra motivation from a trainer right by your side, then in-person training may be the better fit. Hands-on guidance can also be invaluable for nailing proper form. But if your busy schedule demands maximum flexibility, then online coaching allows you to workout anytime, anywhere that's convenient. 
The most important thing is picking the training method that complements your lifestyle. That way, you can be consistent with both your workouts and nutrition without burning out. Consistency is crucial. Once you've locked onto the right approach, get ready to push yourself and see results!
To learn more about online coaching and personalized fitness plan, visit our website
To Know More, Visit the link: bit.ly/best-online-fitness-app
Also Read MUSCLES & MINDFULNESS: HOW JC FITNESS PUMPS UP YOUR MENTAL GAME!
FAQ
What sets JC Fitness apart in the realm of online coaching?
JC Fitness offers a flexible and personalized online coaching experience, allowing you to work out at your convenience. Our virtual workouts cover a diverse range of exercises, from yoga to high-intensity interval training. With our world-class trainers, you can access their expertise from anywhere in the world.
How does online coaching benefit me in terms of flexibility and cost?
Online coaching provides complete control over your schedule, eliminating the need to rush to the gym during peak hours. Additionally, it is cost-effective, saving you money on commuting and, in some cases, gym subscriptions. JC Fitness ensures both virtual and non-virtual training options to suit your preferences.
What are the potential downsides of online coaching, and how does JC Fitness address them?
Some challenges include tech barriers and the lack of physical presence. JC Fitness addresses these concerns by providing a reliable app for tracking routines and goals. Our trainers are dedicated to keeping you motivated and engaged throughout your fitness journey.
What unique features does the JC Fitness app offer for online coaching clients?
The JC Fitness app serves as a comprehensive tool for tracking fitness routines and goals. It acts as a motivational companion, helping you stay on the path to success, even when your cozy sofa competes with your workout ambitions.
What are the advantages of in-person training with JC Fitness?
In-person training at JC Fitness offers immediate assessment, accountability, and interpersonal communication. Our dedicated coaches ensure your best performance, maintain proper form, and create a supportive fitness community for an enjoyable experience.