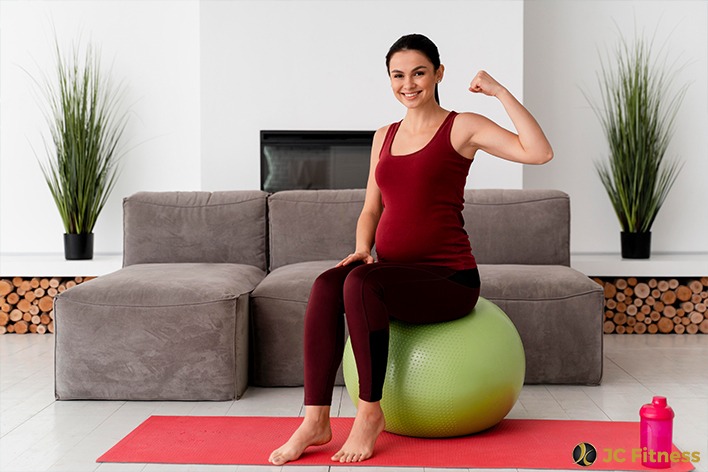 PRENATAL FITNESS TIPS
Hey there! Congratulations you are expecting!! Excited to begin a new fitness regime?  You  must be having a lot of questions in your mind and believe me, it's quite normal to go hay-way for inputs and suggestions related to fitness during these times. Don't overload your mind with multiple ideas and suggestions, just go with the experts who are best in the field. Be it personal fitness training during prenatal or be it any other health advice, JC Fitness is your one stop solution where you can find the best prenatal fitness coaches and we will guide you throughout your pregnancy journey. 
We know working out during pregnancy is one of the most important questions that comes in the mind of every expecting mother. If you are a fitness freak then it becomes very important for you as a women to stay in shape even after giving birth. Prenatal fitness not just helps you to stay in shape rather it helps you to have a healthy and safe pregnancy. Effective ways to improve your fitness, and at the same time reducing your chances of gaining post-pregnancy weight. Do you ever wonder how exercising and fitness training especially at this crucial time can help you? No wonder you have many questions for your fitness guide. But hey don't you worry I have covered most of your concerns in this blog. So keep reading and keep exploring. 
 Exercise can benefit a woman's mental and physical health during pregnancy, and it may give the new-born a healthier start, too. Despite this, studies suggest that only about 40% of pregnant women exercise. Both during and after pregnancy, current standards encourage at least 150 minutes of moderate-intensity aerobic physical exercise each week. A      Workout Plan session should not have to be long. So even a little can do miracles for you and your baby. Trust your body, there is nothing more beautiful than it. 
So now the question arises how much time exactly and what all kinds of exercises? 
Pregnant women can work out 4-5 times weekly, for intervals of 15 to 30 minutes. But don't forget to keep a check with your Doctor!! Even though you are training under a certified prenatal fitness trainer.
Suitable activities during pregnancy include:
Brisk walking: Say yaa to brisk walking during pregnancy. Don't worry it is totally safe. Walking keeps you and baby active and healthy. If your doctor is nearby try doing brisk walking to see your doctor. Want to shop for groceries? Try brisk walking. No matter what you do, where you are ? Brisk walking is the perfect and safest exercise that every expecting mothers can adapt to.
Swimming: Do not stop your love for swimming, your baby loves it too! Swimming is considered as one of the best relaxing exercises for many pregnant women. Take a dip in a hot or cold pool and enjoy!
Indoor stationary cycling: No time is bad for light cycling. For expecting mothers I would recommend stationary cycling. Because being safe is our first priority.
Prenatal yoga: So you are going through many mood swings and not liking anything around. Don't stress yourself, try yoga with your partner and trust me it will calm your body like anything and will help you have a bonding time with your partner as well.
Low impact aerobics under the guidance of a certified aerobics instructor: So now comes fitness lover women. You can adopt little aerobics but that too under guidance of a certified trainer or instructor. Don't be too harsh on your body. Remember your every action should have a positive impact on your baby.
Special exercises to prepare for labour and delivery: As you reach towards the "D" Day of your life, we help you prepare you for pain free and easy labour and delivery. Our special prenatal exercises help get ready for the easiest way of labour and delivery. Let's work together to prepare your body well in advance.
Enough of different exercises now. Do you also have questions about the actual benefit of all the exercises on you and your baby? Lets read on…
During pregnancy, exercise can help by:
Increasing the heart rate steadily and improving circulation
Reducing the risk of obesity and related complications, such as gestational diabetes and hypertension
Help prevent constipation, varicose veins, backache, and other pregnancy complications
Keeping the body flexible and strong
Supporting and controlling healthy weight gain
Preparing the muscles for labour and birth
Help prevent deep vein thrombosis
Improve sleep and emotional health
Some more to go:
Shorten labour and decrease the need for medication and pain relief
Reduce the risk of a preterm or caesarean delivery
Speed up recovery after delivery
Give the infant a healthier start
And what about benefits for babies? So here comes your answers–
PreNatal exercises also have a positive effect on the child:
A lower foetal heart rate

Lower fat mass

Improved stress tolerance

Enhanced nervous system development
 Wao! I am pretty sure that I might be able to cover most of those drizzling questions about prenatal fitness. So don't stay sluggish on your bed. Get up and get ready to meet your prenatal fitness coach. If i have missed any of your query, feel free to drop me a comment below, i make sure i'll give you the best of the ideas and can recommend you best exercises. 
Also Read:
How personal fitness trainers help you to ace up your fitness journey